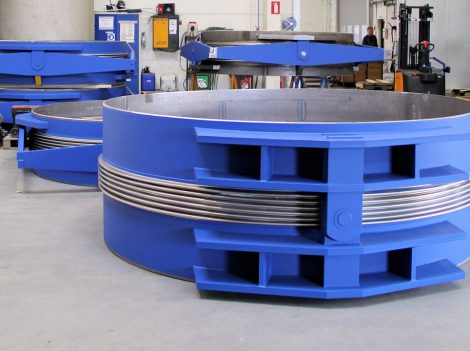 Stainless steel expansion joints are installed to absorb the movements caused by thermal expansion of ducts. They are also suitable to catch up misalignments and to absorb vibrations.
Vermeul delivers these expansion joints among others to the petrochemical industry, refineries and the steel industry. We have a lot of knowledge and know how concerning specific scopes and demands which are required for stainless steel expansion joints in these industries.
In cooperation with our partners, we design expansion joints according to EN 14917, EJMA or ASME. We even produce up to PED category III, module H.
Drawings, lifetime- and strength calculations, if necessary FEA approved, welding documentation, NDO investigation can be discussed in advance between Vermeul and the customer so it is clear what documents are required in the Manufacturing Data Book.
Also for the connection of storage tanks Vermeul has a specific program stainless steel expansion joints. These Tank Farm Bellows are installed between the storage tank and the manifold and can absorb the movements of the storage tank. Do not hesitate to contact Vermeul to ask for the leaflet "Tank Farm Bellows".